Following on from bringing you Georgie Fame, The Zombies, The Pretty Things and The Birds we present the legend that is Zoot Money!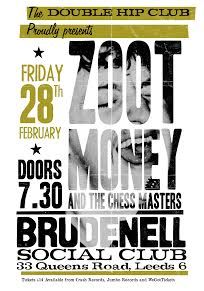 Support comes from The Electric Stars and The Local Beatnik.

Doors 7:30pm

Brudenell Social Club
33 Queens Road
Leeds
LS6 1NY

Tickets (Priced £14 subject to booking fee) can be found here:

http://www.jumborecords.co.uk/tickets.asp?sort=&event_id=16354

http://www.wegottickets.com/event/243961

Zoot Money (born George Bruno Money, 17 July 1942, Bournemouth (at that time in Hampshire), England) is a British vocalist, keyboardist and bandleader best known for his playing of the Hammond organ and association with his Big Roll Band. Inspired by Jerry Lee Lewis and Ray Charles, he was drawn to rock and roll music and became a leading light in the vibrant music scene of Bournemouth and Soho during the 1960s. Money has been associated with Eric Burdon, Steve Marriott, Kevin Coyne, Rocket 88, Snowy White, Mick Taylor, Spencer Davis, Geno Washington, Brian Joseph Friel, the Hard Travelers, Widowmaker and Alan Price. He is also known as a bit part and character actor.

He was born George Bruno Money in Bournemouth, Hampshire, in 1942, of a family that were Italian immigrants, though of English descent on his father's side. He played the French horn and sang in the school choir as a boy. During the mid-1950s, he discovered Jerry Lee Lewis and Ray Charles, took up keyboard and, by the beginning of the 1960s, Hammond organ. He took his name from Zoot Sims after seeing him in concert.

In early autumn 1961 Zoot Money formed the Big Roll Band, with himself as vocalist, Roger Collis on lead guitar, pianist Al Kirtley, bassist Mike "Monty" Montgomery and drummer Johnny Hammond. In 1962 drummer Pete Brookes replaced Hammond at the same time as bassist Johnny King and tenor sax player Kevin Drake joined the band.

The Big Roll Band played soul, jazz and R & B, moving with musical trends as the now established R & B movement moved into the Swinging Sixties and became associated with the burgeoning "Soho scene". Money's antics as a flamboyant frontman were a feature of the band's act. During 1964 the Big Roll Band started playing regularly at the Flamingo Club in Soho, London until Money joined Alexis Korner's Blues Incorporated. During the mid-1960s the lead guitarist in the Big Roll Band was Andy Summers, who later found international fame as one of the three members of the Police. In July 1967 the Big Roll Band became Dantalian's Chariot and in spite of a lack of chart success the band found itself at the heart of a new counter culture, sharing concert line-ups with Pink Floyd, Soft Machine and the Crazy World of Arthur Brown. A single, "Madman Running Through the Fields", was released in 1967 but in April 1968 Dantalian's Chariot was disbanded. During 1968, with a brief stint in the United States with Eric Burdon & the New Animals, Money moved to the States. During this period he began attracting acting roles and started a parallel career with character appearances in film and TV dramas.

In June 1970, Money contributed piano to the improvisational studio jam session led by former Fleetwood Mac guitarist Peter Green; and edited into six tracks that formed Green's experimental release, The End of the Game. Also in the 1970s, Money appeared with different acts including the poetry and rock band Grimms, Ellis, Centipede, Kevin Ayers and Kevin Coyne. Money toured with Coyne and appeared on Coyne's double album In Living Black And White (1976), which was recorded at live performances, and on his two studio albums Heartburn (1976) and Dynamite Daze (1978). Money signed to Paul McCartney's record label MPL Communications in 1980 and recorded Mr. Money produced by Jim Diamond. In 1981 Steve Marriott and Ronnie Lane formed a band with Money, bass player Jim Leverton, drummer Dave Hynes and saxophone player Mel Collins to record the album The Majic Mijits. The album features songs by Lane and Marriott but due to Lane's multiple sclerosis, they were unable to tour to promote it. It was eventually released nineteen years later.

In 1994 Money appeared with Alan Price and the Electric Blues Company alongside vocalist and guitarist Bobby Tench, bassist Peter Grant and drummer Martin Wild, on A Gigster's Life for Me. He continued to appear with Price at live appearances in the UK. The Dantalian's Chariot album Chariot Rising was released in 1997, thirty years after it was recorded. In 1998 Money produced Ruby Turner's album Call Me By My Name, and the Woodstock Taylor and the Aliens album Road Movie (2002), also contributing keyboards to both. In 2002 he recorded tracks with Humble Pie for their album Back on Track released by Sanctuary Records.

Money joined Pete Goodall to re-record the Thunderclap Newman UK hit single Something In The Air (2004) written by John "Speedy" Keene, which featured the last recorded performance by saxophonist Dick Heckstall-Smith. In 2005 Money joined Goodall to record a CD of new songs by Goodall and Pete Brown. They went on to tour the UK under the name of Good Money. In early 2006 Money and drummer Colin Allen joined vocalist Maggie Bell, bassist Colin Hodgkinson and guitarist Miller Anderson, in the British Blues Quintet.

He appeared with the RD Crusaders for the Teenage Cancer Trust at the "London International Music Show", on 15 June 2008. In 2009 he appeared with Maggie Bell, Bobby Tench, Chris Farlowe and Alan Price, in the Maximum Rhythm and Blues Tour of thirty two British theatres.